Expert Rubbish Removal London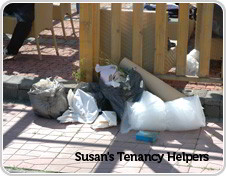 After the garden clearance or the renovation you had done in your home, it is highly likely that you are left with piles of rubbish in your outdoor and indoor space. The rubbish removal London team will get your home in shape again and will get rid of the collected junk. We have removed big and small piles of rubbish of homes and offices all over London, always delivering great results. Our services have a high success rate and as a result, we have gathered a large group of satisfied clients. Over on our testimonials page you can read what they have said about us and our services.
An Easy Way To Dispose Of Your Garbage
Garbage tends to pile up over time and there are those moments when you completely forget about the pile of trash in your basement or the heaps of old furniture and damaged or broken items you no longer need. This kind of trash tends to gather up quickly after renovations, moving into a new home and in some cases, even while you pack and sort through your things before you move out. And yet, you still manage to forget about these bags full of no longer needed items, that is, until you see them gathering dust and taking up space. It's ok, your schedule is probably filled with tasks far more important than sorting through and disposing of waste. In these situations, it's always a good idea to call a rubbish removal expert to assist you with this bothersome and time-consuming task. With the help of our services, you'll be able to organize all of the unwanted items and unneeded garbage you want to get rid of for good.
Testimonials
After New Year's my house was a complete mess. I'm not much into cleaning and I decided to treat my home to one-off cleaning by Susan's Tenancy Helpers. I made my checklist and booked the service. A team of cleaners came to my property and did everything I demanded. Thank you for your help.